Conversation starters really can be quite useful as ice breakers and even to get to know old friends better but the biggest draw has to do with this…
Why Bother with Conversation Starters?
Picture this:
Sitting across the table from you is a new friend. You've just invited them into your home and you want to get to know them.
But, they are a little reserved, and it is starting to get painfully awkward.
You've exhausted the few questions you thought of before they arrived and the conversation doesn't seem to be going anywhere.
Before you give up on this interaction completely and wait anxiously for their exit, try this:
Conversation Starters (otherwise known as Icebreakers)
If you are extremely extroverted (like my dear daughter) maybe this hasn't happened to you. But for the rest of us, this has probably happened many times. And for some of us, it's enough to discourage us from even trying to host people we don't know well.
These moments cause anxiety and make the relationships that could be built feel like insurmountable hurdles.
But it doesn't need to be that way!
Instead, give these conversation starters a chance.
I have compiled a list of 100+ conversation starters that will ease the burden of starting new relationships and make your home a fun place for getting to know one another.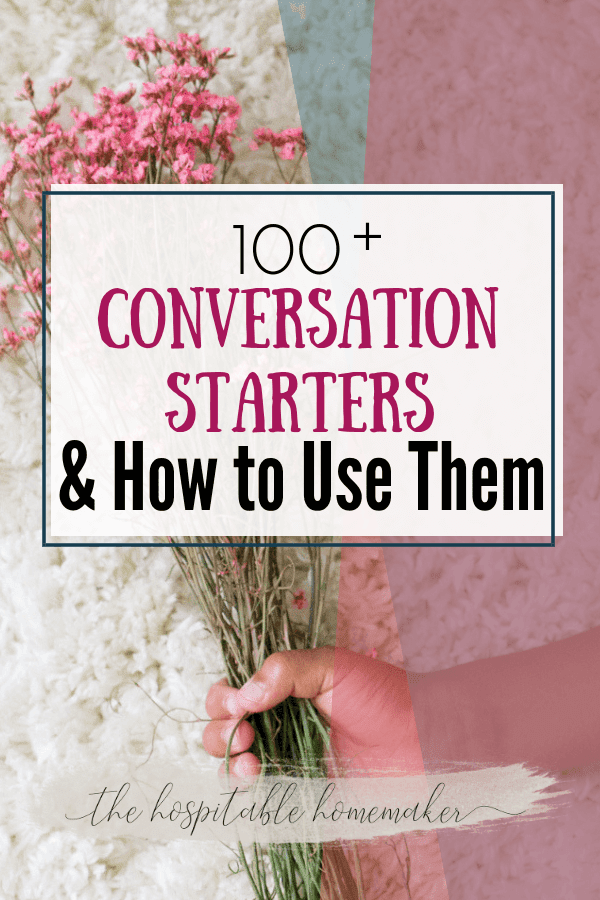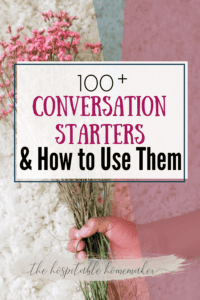 How to use conversation starters:
There are a million ways these printable cards can be used but I will give you a few of my favorites.
Fill Up a Jar
You can print these conversation starters, cut them out, and fill up a jar or basket in your house with them.
Then you can pass them around the table, have everyone pick a card, and give everyone at the table a chance to answer before moving on to the next card.
Or you can involve your children in the hosting by having them pick one card before the guests arrive that they can ask.
If you are hosting families with young children, you can also ask their children to pick a question when they arrive and keep it with them until the meal is served.
This forms a sort of "getting to know you" game (similar to our New Year's Eve game) that makes the evening more approachable and puts everyone on an equal standing in the conversation.
Honestly, this is fun even for people you know well because there is a good chance you haven't discussed all of these things!
2. Read a few
Maybe you don't want to turn this into a game for everyone, but you feel like you are weak with small talk.
In that case, just keep these close at hand and refer to them discreetly when the evening is getting a little too awkward.
This way, it will just seem like you are a great conversationalist who really knows how to get everyone talking!
3. Use for Bible studies and other group gatherings
I have led many Bible studies over the last several years and one thing I learned early on from the silent stares that met my opening question was:
Anytime you want to get people talking, it is good to give them a little practice.
So you can choose one or two questions to use as "ice breakers" that will open the conversation and get everyone used to contributing.
It is amazing how much more interaction you can get if you use a simple tool like this.
It's like the warm up before the work out. It's not super intense but it's just enough to get the mouth and mind muscles ready to really contribute.
Sometimes even groups that know each other well will struggle with active contribution so these are a great tool to keep on hand.
Conversation Starters As a Practical Tool
Conversation starters are a practical tool that can help you overcome anxiety associated with hosting.
These simple questions can be kept close at hand and give you one less thing to worry about as you open the door for new guests in your home. And they can even be used to get to know old friends better!
Have you ever used conversation starters or ice breakers? What is your favorite tool to overcome those potentially awkward moments that give us all a touch of anxiety? Let me know in the comments below!