Hosting a game night doesn't have to be stressful. Here is your complete, step-by-step guide to make game night happen without the stress!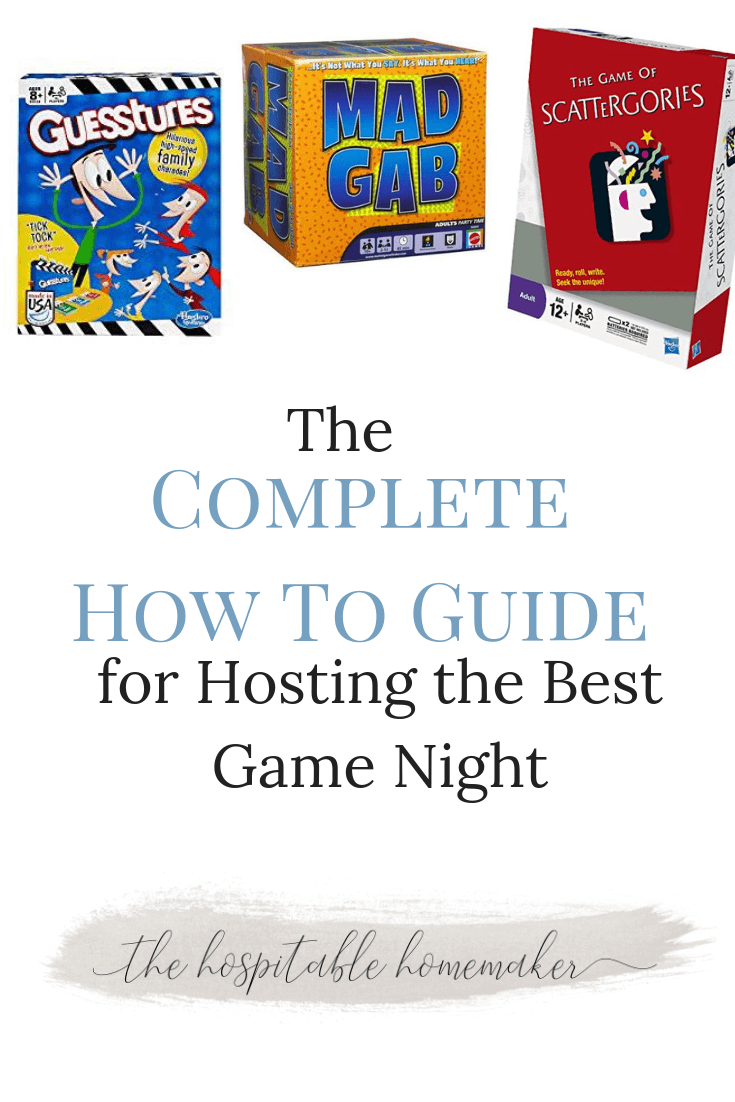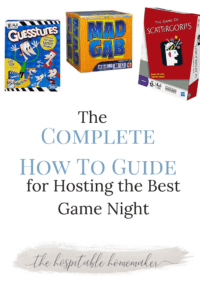 Complete How to Guide for Planning an Awesome Game Night
For the entire history of my marriage game nights have been a source of entertainment and wintertime encouragement. Upstate New York doesn't have the worst winters in the world (trust me, I grew up in Alaska!) but they certainly aren't easy and passing the time with joy can be a struggle. Enter the game night solution. Among other things we have done to flourish in the winter, periodic game nights have added an element of fun that is often lacking with long, cold days spent primarily inside.
This has now become our New Year's Eve tradition every year. Friends gather from all around for tacos, games, and sparkling cider at the stroke of midnight. For that evening we stop the regular games around 11pm and start our New Year's game (find that here!). Most of our other game nights don't last quite that long but they are always fun and a needed chance to laugh.
This tradition started even before we were married when the resident director in my husband's dorm (still a great friend of ours!) used game night as a chance to spend time getting to know the guys. My husband never missed it and his love for it translated into it being the easiest event for me to get his consent on (he LOVES to host but usually doesn't prefer a theme).
All that to say, I've narrowed down these game nights over the years into the simplest method to pull it off without a struggle.
Related: Life In Community: The Importance of Relationships to the Christian Life
My Best Recommendations for Game Night
For the invite:
You have a few choices. You could go all out and send a physical invitation to your guests but honestly, that just seems a little silly for a simple event. You could send evites but even that is a little too formal. My recommendations are either creating a private Facebook event, group Facebook message, or sending a bunch of text messages. These are all super simple and easy. I don't know why exactly but I usually just send a bunch of text messages. None of those three options should take more than 5 minutes. Send a simple message like this one: "We are having a game night on (pick a day) at (pick a time). We will snacks & appetizers & would love to have you join us! Let us know if you can make it!"
Here are some quick suggestions for appetizers: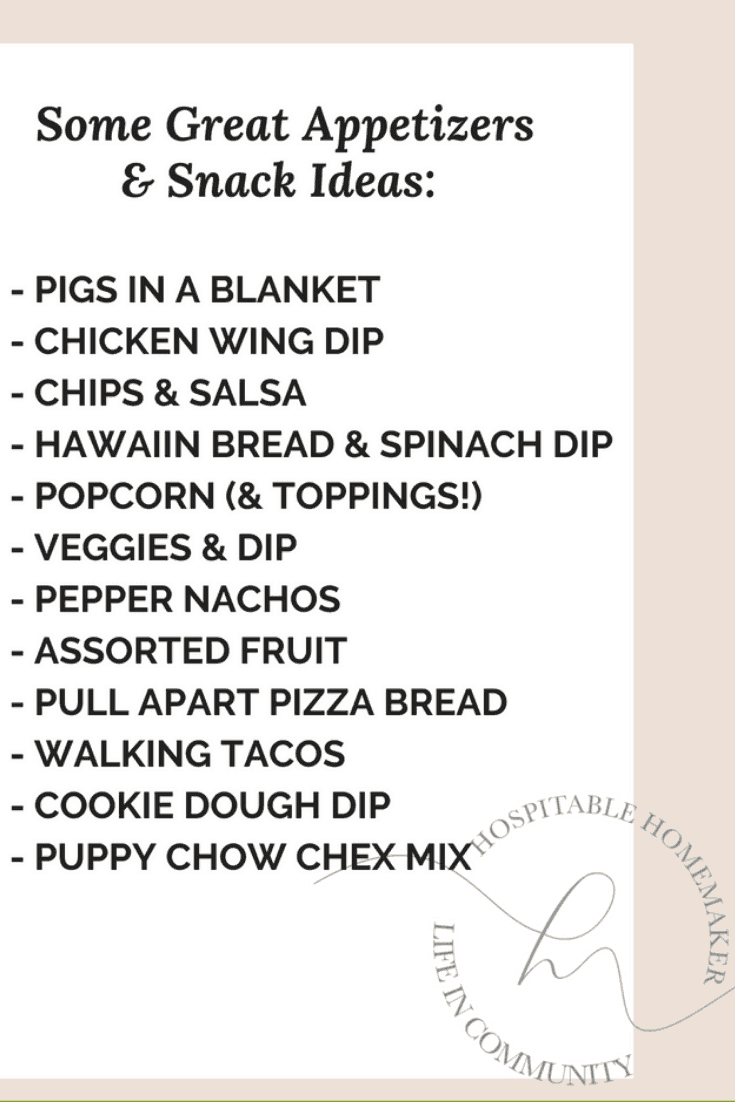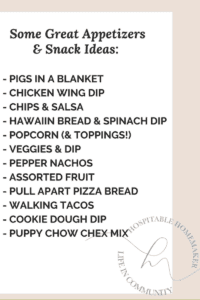 Planning for the event:
1. Pick a Menu
You have to decide what food you want to serve first. Tacos are a go-to for me because everyone can assemble them and choose what they prefer without fear of offending the person who makes the meal. PLUS it is super easy to answer when someone asks, "what can I bring?" Each person who asks just gets a different ingredient and its done. This also can be adjusted to work with SO MANY food allergies!
Another way to do this that I haven't tried yet is walking tacos. I'm excited to try it and I love this post all about it from Saving Dollars & Sense!
You can also do a make your own pizza bar like this one. I just find that a little more challenging because they have to cook individually in the oven and somehow everyone always wants to make them at the same time in my experience…
Another simple way to do this is to plan a ton of appetizers and desserts. That way everyone can bring something to contribute and everyone can pick at the food throughout the night. We just had a game night at our house last week and we took this approach (although I did cook one big pan of mac-n-cheese just to make sure everyone was full because I tend to go overboard…).
Here are some simple menu suggestions:
2. Grocery Shop
This is my least favorite part of the experience but it must be done. Do yourself a favor though and shop your cupboards using the recipes you chose above because I hate it when I get home only to discover I now have two of something I don't use very often.
3. Get the house ready
This is totally a matter of what you are comfortable with and having a house cleaning routine is crucial here. We are in the throes of a major decluttering effort in an attempt to make everyday hospitality easier (and it is working by the way!!). Focus your efforts primarily on rooms that get a lot of use like the bathroom and the kitchen. And make sure you have seating or adequate flooring for everyone to crash on. There is no reason for your house to look like it recently appeared in Better Homes and Gardens! People tend to feel more comfortable in a tidy house that feels like people actually live there anyway.
4. Pick your games
Some games are just not very fun. That's the truth. Some are great for two or three people/ Some take hours! Others are perfect for a party! It can be hard in the beginning to figure out which ones are worth investing in. Here are some of our tried and true favorites. Hopefully this can take some of the guess work out of it for you.
Interested in hosting other events but not sure where to start? Check out this FREE guide – 15 Gatherings You Can Plan in 15 Minutes!
The Best Party Games for a Group
Catch Phrase
– This is our favorite right now! We love it for several reasons – it is quick, simple, and it doesn't have cards or a board! That last point probably only matters to you if you have young children but trust me… it is very stressful to try to keep kids from getting into the middle of a board game while you are playing and even worse if they succeed! Catch phrase solves that problem!

Taboo
– This one is super simple to learn and a ton of fun! It brings out everyone's competitive nature! It is similar to Catch Phrase with a few more rules. It has definitely become one of our go-tos!

Scribblish
– This is a cute game. It is simple to learn and fun to play. It doesn't top my list but, for whatever reason, my husband LOVES it! Perfect for a group of 4-6 people.

Apples to Apples
– This game is a great one to turn to when you don't really know your guests very well. It provides a lot of opportunities to get to know them in a lighthearted, childish way.
Cranium
– We have played this so much we started to memorize the cards and had to give it a rest! This game provides a great variety of ways to earn points. Not good at sculpting? That's ok! Next time there will be some random fact you might know…
Mad Gab
– This is one of my personal favorites. Essentially the concept is to read each card out loud while others try to guess what the words are supposed to sound like. So, for example, the card might read "Easel Aid Ease Man" and when said quickly the team needs to guess "He's a lady's man". Its quick to learn, fun for teams, and takes almost no skill.
Guesstures
– Who doesn't love some silent acting? Everyone looks foolish and it breaks down all the barriers. I love this game!
Scattergories
– and last but certainly not least, Scattegories. I'm not fantastic at it but I just think it's a lot of fun. For whatever reason it reminds me of a much simpler Scrabble and I think it works well as a party game, especially if your crowd isn't overly enthusiastic.
Feel free to ask guests to bring games along if you don't have them but just keep in mind they may forget so its best to keep at least a couple on hand.
5. Plan your day around what foods need to be prepared at what time
If there is an element of the meal that can be made the day before or early in the morning… do it! The less you have to pull together right before a bunch of people load into your home, the better! Trust me! If you aren't new to cooking this may not be as important for you but it is always easier. I have been cooking pretty much every day for more than 7 years and I have come to understand which things can be made quickly and which take more time (within reason) but I still try my best to make things ahead. You just never know what will come up at the last minute. It's a rough feeling to know you have cookies to get in the oven but your toddler just made a mess all over the bathroom floor and the guests are now walking in…
6. Have fun!
Remember, just because you are the host, doesn't mean you don't get to have fun. Settle in, laugh, enjoy the company. Game nights are a blast! Let the dishes go for tonight. Enjoy the conversation instead.
Related: The Embarrassing Story that Taught Me 4 Valuable Lessons on Hospitality
Random Suggestions:
*This may not always be necessary and it is super fun to have a game night the kids can be included in but if your children are young, remember, some popcorn and a parent approved movie will be a blast for them while the parents play (I am not a proponent of excessive television for my children and this is exactly why they think of popcorn and movies as such a treat!).
*Don't overdo it. Part of the appeal of having a relaxing evening is having a relaxed host. If you are freaking out the whole time or busy working, your guests won't feel inclined to relax and enjoy the evening. Give yourself and everyone else a break, share the workload, and just have fun.
*Don't forget to buy drinks or assign someone to this task! Because we typically only drink water or seltzer in our house I feel like I always forget this! It is now the first thing I say when someone offers to bring something!
Have you every hosted a game night? What do you love about this idea? Any other gatherings you love to host? What suggestions do you have? Let me know in the comments below!
If you loved this post, you will seriously LOVE our resource library that even includes our signature guide – 15 Gatherings You Can Plan in 15 Minutes. Check it out here.
Also Check Out:
6 Practical Ways Children Can Help With Hospitality
How to Practice Hospitality When You Are Chronically Ill
The Ultimate Dinner Guest Checklist