Despite my feeble attempts at perfection, this kitchen fail revealed my secret… I am not perfect! And there is grace in that!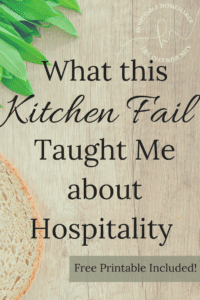 Flames poured from my stove. The sweet friend I was speaking to (with my back to the kitchen!) couldn't get anything other than "oh no!" out and I was mortified. My house was filled with people from church, the meal was finished and waiting in the crockpot but the bread I had thrown under the broiler was now flaming. Fire escaped the closed oven door as I ran for some water.
A man from church rushed into the kitchen telling me not to use water. I was confused, "Why not?!" "That's a grease fire and water will make it worse!" "What?! That's a grease fire??" He told me to get the salt. "Salt? I don't have that much salt!"
Then I realized, he had no idea what he was talking about. I grabbed a glass of water and threw it in the stove. The fire fizzled out, deep black smoke filled the kitchen, everyone was coughing and opening windows. I was horrified.
Related: Hospitality is about Connection, Not Perfection
My Perfection Isn't Necessary
I laughed it off that day on the outside but inside I spent the day stressing about that terrible moment because it would be years before I would realize… that wasn't a big deal. Sometimes the hospitable person burns the bread and everyone is still happy to be together.
People would much rather have your attention than your perfection.[clickToTweet tweet="People would much rather have your attention than your perfection."
Though I couldn't have imagined it then, that story has become one we enjoy telling and it always gives everyone a good laugh. You would think I would learn my lesson but I still don't set a timer for the broiler and have almost done this several times since. Maybe someday I'll remember… But, in the meantime, I will be thankful everyone survived and continue to look for chances to listen enough that I burn the bread.
All of the people in our home that day are still dear friends of ours today. The flames in the kitchen or the perpetual smell of smoke that lasted through the afternoon did not stand in the way of that. And there is an understanding, guiding every interaction we have – it's the understanding that I am not perfect. They don't expect me to be. And there is such grace in that!
They have my attention when we are together but they don't have my perfection.
How this Kitchen Fail Changed my Perspective
This pan, that still resides (though is rarely used) in my kitchen, bears constant evidence of my imperfection because I have never been able to get the burn marks out of it (you can still see the outlines of those poor pieces of bread!).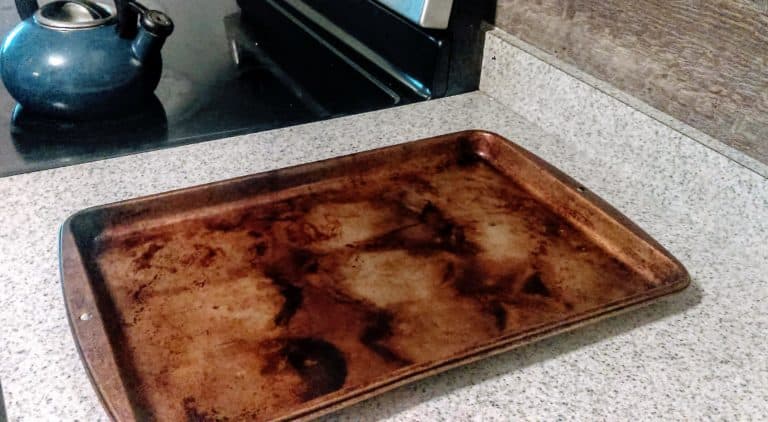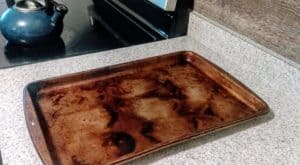 Christ is the only One who is perfect. I hope my imperfections point people to Him.
Related: An Open Letter to My Children About My Failure
I also hope that having my real attention captures the hearts of those in my home. It is truly my desire that they recognize I genuinely care, I really hear them, and nothing is more important to me than what they have to say.
But this concept is getting harder and harder to attain. Phone screens stand like an invisible wall between people. They stop us in our tracks and prevent us from talking to each other. Afraid we will interrupt this virtual reality, we feel smaller and less important.
Related: How to be Real in Our Virtual World
So, knowing we cannot offer our perfection, how can we give people our attention in such a way that it points people to the perfection only Christ can offer? In our tech saturated world, most of the answers are pretty obvious.
Put away your phone
Better yet, take away everyone's phones. It always breaks my heart when I see people in restaurants who are so glued to their devices that they barely exchange words. And yet, how often has that happened in my home? So, the number one way to increase the attention you give your guests, is to put your phone away.
I know several people who do this by having a "phone basket" that everyone places their phone in upon entering and they don't get it back until it is time to leave. While I've never gotten this far in my own home, I see the wisdom and I like it!
Be intentional, you don't need to scroll through social media when you have an opportunity to be social right in front of you. It will be much more healing for your soul and much sweeter for those around you.
Listen
Listen to what others are dealing with and don't minimize their situation. Don't relate every story someone tells you to something in your own life. Just listen.
If you really care about what someone is telling you, it will be obvious. Convince yourself that the person you are speaking to has value because they are created by God and therefore they are worthy of your attention. This means you give the person eye contact. You interact with what they are saying. And you care deeply from your heart.
Don't be afraid of being real
Sometimes you will burn the bread. Sometimes your home won't be up to your preferred standard. Sometimes your children will misbehave. Embrace the reality of this life and your own imperfections.
Instead of seeing these as points of weakness, see them as opportunities to be approachable. None of us are perfect. Some of us are better than others at hiding our imperfections but sooner or later in any real human interaction we will begin to see imperfections in others. Rather than running from the problems we see in ourselves, let's remember our value as a person does not come from our external abilities but in the image of God we reflect.
When viewed this way, imperfections become an opportunity to both point to the only truly perfect One (Christ) and an opportunity for others to show us their imperfections.
When in doubt – just welcome
If you really want to give people attention but you don't know how to start. Just welcome. Put aside your to-do list (my biggest struggle) and your devices and open the door wide. Every person God allows to cross our paths is an opportunity to extend the welcome we have received.
We welcome others as Christ has welcomed us (Romans 15:7). We can approach God and know we have His attention at any time (Hebrews 4:14-16). If we have been welcomed in our sinfulness to have access to a holy God at any time by the blood of Christ. Certainly we can welcome others with the simple act of device-free listening.
Related: A Call To Radical Welcome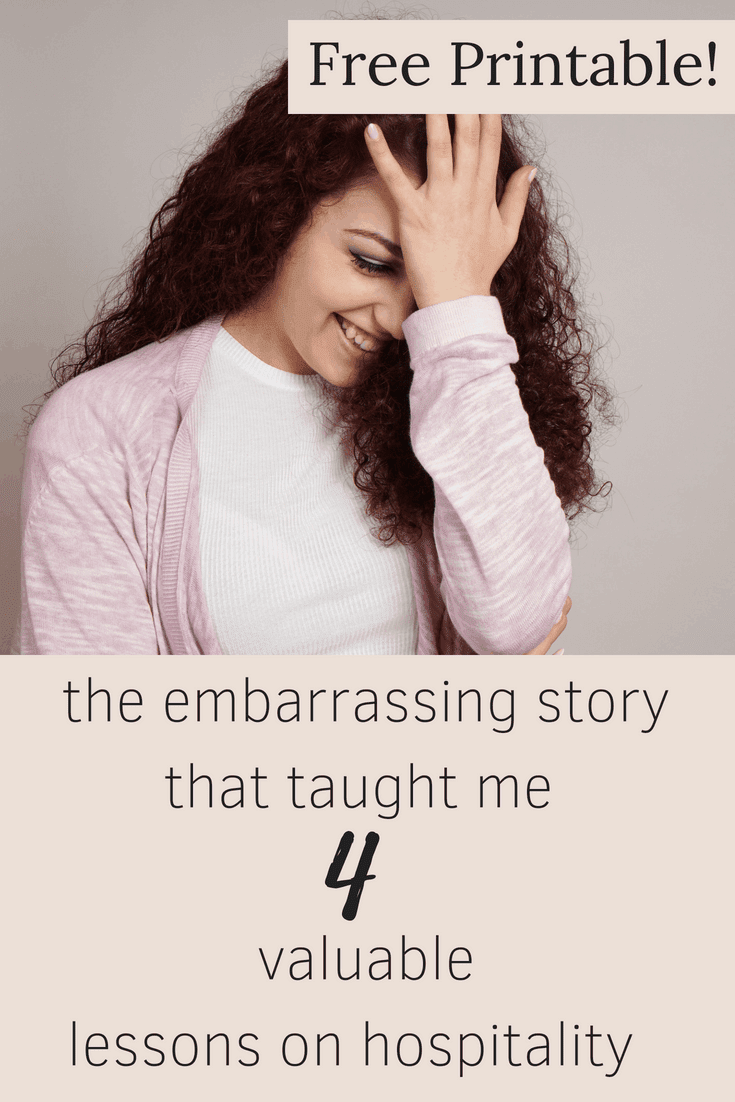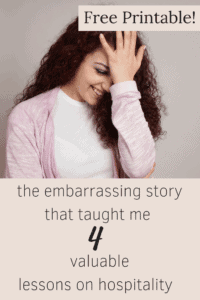 Don't Let Pride Stand in the Way
Both children and adults need our attention. They do not need us have the perfect home or the perfect menu. They need to know they have value in our eyes and we can see them.
This is what I want from relationships and I have a sneaking suspicion it is what you want to. But so often our pride stands in the way and stops relationships from forming because we are afraid of what others will think.
The hospitable heart takes its eyes off itself and puts them on the other person. When we do this we are able to approach hospitality humbly with joy. Rejoicing all the more in our weaknesses because we know that in our weakness, Christ's power rests on us(2 Corinthians 12:9)! And sometimes flaming bread is involved…
Your Free Printable!