It doesn't both me to be called a homemaker. I believe it is a high and holy calling and this is why.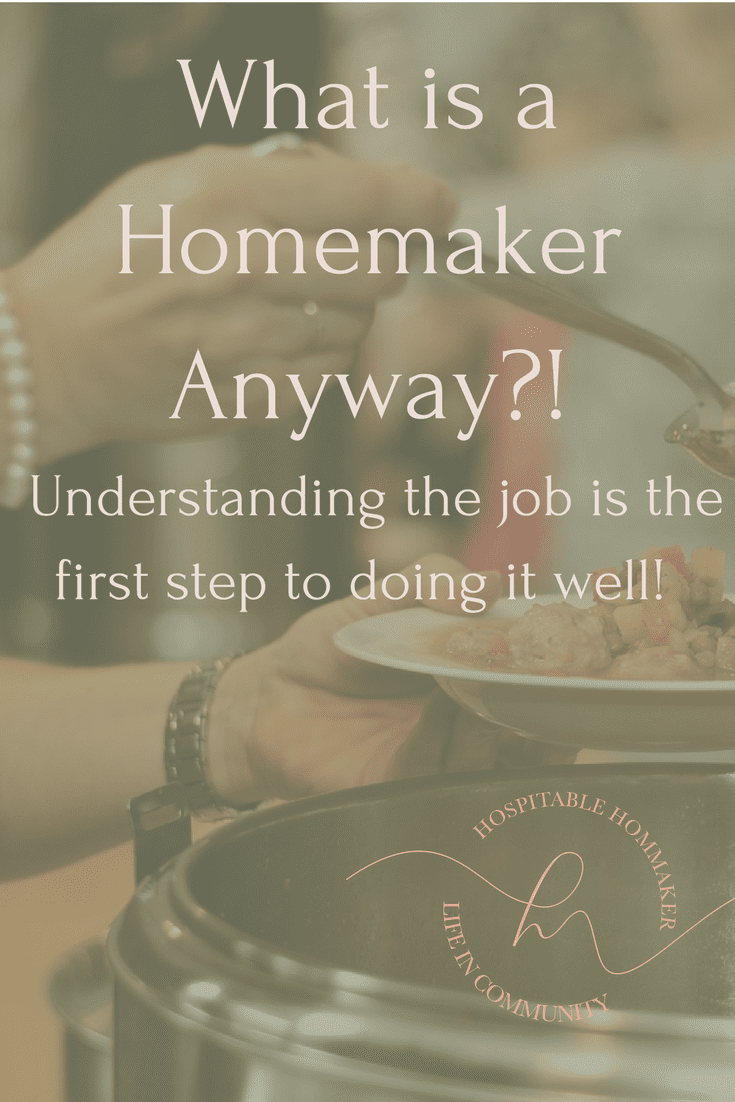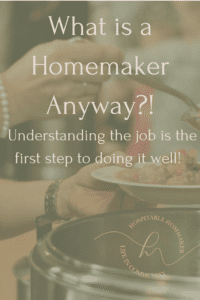 What is a Homemaker Anyway?
Some will answer that question by saying, "stay at home mom" others will say "housewife" and still others will laugh and say "a lucky lady who stays in her PJs all day".
I don't think any of those ideas really portray it though. According to the dictionary, a homemaker is a person who manages a home. You don't have to be a stay at home mom, a work at home mom, or even a mom to be a homemaker. You have to be a person who creates and maintains a "home".
What is a Home?
So then I guess the question becomes, what is a "home"?
A "home" doesn't have to be large or elegant. It looks different for everyone. I learned this lesson deeply when I was growing up. We moved A LOT and nothing ever seemed sure except my family. I learned that I didn't need to rely on a physical structure because "home" was primarily about the people I shared my life with, not where we spent our time.
BUT that doesn't mean that "homemaking" doesn't take on all of those practical elements like constant cleaning, cooking, and decluttering.
Home is the tangible location that represents a myriad of intangible truths. Home is the physical structure that pulls together the people who belong in it.
A home is a place of refuge, first for the souls that reside there and then for those who grace the threshold. It is not a place to get away from others or a place to cower in the shadows, hoping no one expects anything of us. It is a place for us to run for refreshment while we grab other battle weary comrades and pull them through the door.
A home is a place of rest. Home is where we go when everything is crazy. When busyness and attack come knock at our door, home is where we know we can rest.
Home is a place of strategy. Home is where we plan out how we can bless others. Home is where our feet are firmly planted so we can reach out with intention.
Home is a place of belonging. Home is where we have a role. We know we are a part of life there and that it wouldn't be the same without us.
Home is where we welcome others. It is a hub for souls longing for belonging and it always has room for one more.
Home is a place of healing. We get wounded regularly in our pursuits with the world. Home is a place we come to receive the healing balm of Scripture, fellowship, friendship, and deep comradery.
Home is a place to rest and a place to plan. Home is for our families and for our communities.
Home is a place filled with laughter and joy whenever possible.
Home is a place of learning. It is filled with opportunities for personal growth and exploration.
Home is the place we work through deep questions about faith and life.
Home is a solid place to land when we fall on our faces.
Home is arms to hold us together when we feel like we are falling apart.
At least these are the things that home should be.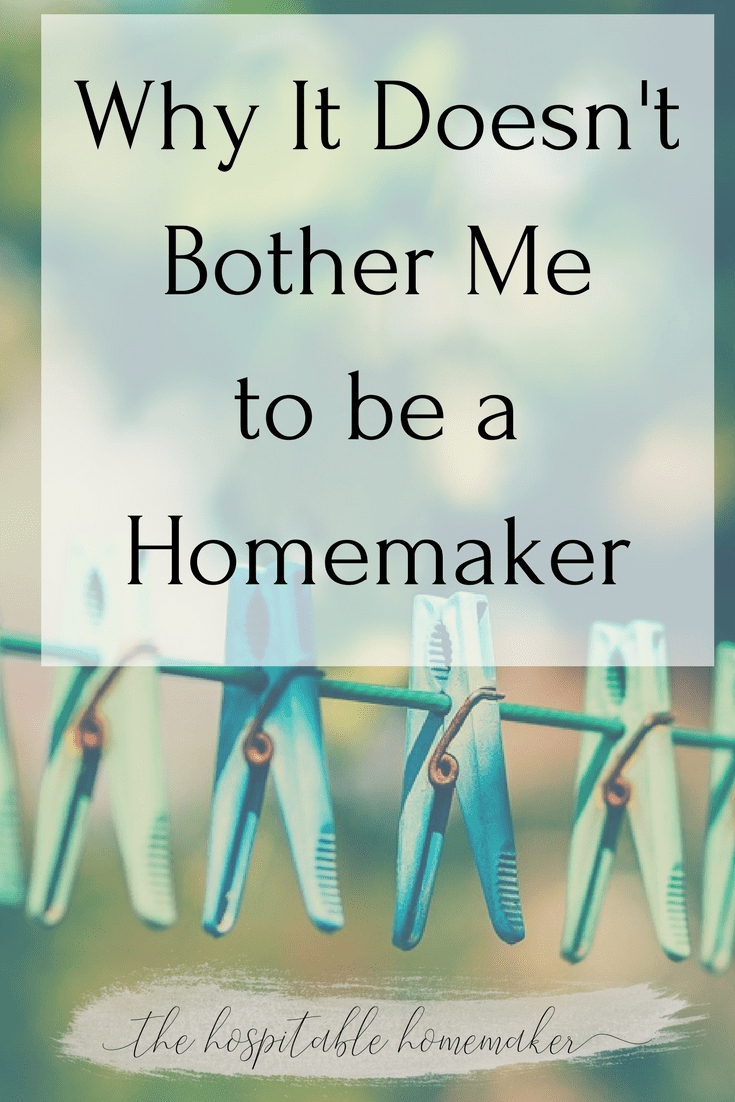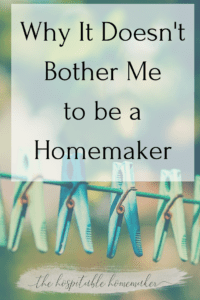 Related: What is a "Christian Home"?
What is a Homemaker?
So what is a "homemaker"? A homemaker is the chief person in charge of ensuring her dwelling place becomes all of those things we just talked about. A homemaker is a person who extends a spirit of grace and welcome which in turn, fills her space with rest.
I don't think that when Titus 2:5 says women are to be "working at home" it means any form of work outside the home is sinful. Nor do I believe that we are suddenly free from being a "homemaker" if we have another profession.
"Homemaker" is not synonymous with "stay at home mom". A homemaker is a person who welcomes with open arms those who grace the doorstep. She is the person who puts the random pieces of family life together so that those within her walls know they are cherished, cared for, provided for, and loved whether they stay for 10 minutes or for 20 years.
A homemaker pours herself into the service of others even when the tasks are thankless.
A homemaker understands that her life is supposed to be lived with purpose and mission and sometimes part of that mission is cleaning the toilets and making the beds so that those she welcomes encounter a place of warmth and a spirit of calm.
A homemaker snuggles babies to sleep and hugs a battle worn husband after a long day if she is blessed with them.
A homemaker opens the door wide for people who look and act differently. She prays for neighbors, friends, family, community, and church.
A homemaker is chief comforter and recognizes the healing power of hot food and quiet conversation.
Being a homemaker doesn't have to mean you are the best housekeeper or a stay at home mom. Being a homemaker means recognizing the significance of the home as more than a place of entertainment or solitude and genuinely pushing it toward welcome and ministry to those within and without. Being a homemaker means allowing people to find "home" with you. It could be a dorm room, an apartment, a fixer upper, a starter home, a beautifully decorated mansion, or anywhere else you reside. The location doesn't make it home.
Home is home because there is someone who makes it that way. It is a high and holy calling. And one I am grateful for.
Related: 4 Must Read Books for Every Christian Mom
To read this and other great Christian blogs check out