Having a small house for hosting is no reason to be afraid! Learn how to embrace your space with these ideas!

Small Space? Don't Let that Stop you From Hosting!
Dealing with a small space is a challenge to hospitality efforts. Sometimes our attitude is, "I would gladly welcome people into my home if I had a better space for it." But we need to start with what we have! If you believe hospitality is important (find out why it is here), you will begin to extend a welcome to strangers and friends regardless of your specific limitations.
There are a lot of practical things that take creativity in your hospitality efforts! When you face a less than ideal space for hosting, it can be overwhelming but it doesn't need to be impossible! Check out these ideas for some creative help!
Related: 3 Lies You Might be Believing If You are Afraid to be Hospitable – Free Printable!
1. Invite fewer people
Sometimes we view this negatively. We would rather plan for big parties occasionally than a regular course of life welcome. It is easier, for many of us, to have something on our calendar that we can check off once in a while than it is to consistently live a life of welcome (read more about that in my personal story here).
Inviting fewer people doesn't need to be a negative though! In fact, it can be quite the opposite. A few people coming for an intimate meal together is the perfect place to get to know one another beyond the few pleasantries that are often exchanged in larger gatherings. Intimacy is created when there are fewer distractions from conversation. Embrace this!
2. Get outside
Maybe your home is small but you have a great yard (this is pretty much the case for our house). Have more people over to go outside. This may not always be possible (believe me, I get it! We live in snow country!) but for a large portion of the year this is a great way to get together. The house takes less time to clean-up after a gathering like this, you can include neighbors and passersby, and there never seems to be an end to the discussion in the great outdoors.


(This is a picture of the pumpkins a bunch of kids painted with their moms at an outdoor gathering at our house)
If your yard is not an option either, go to the park! We were famous for these types of outings before we moved into our own home. When we were living in an apartment we would often call up everyone we could think of and ask them to meet us for an impromptu gathering at a local park. Everyone brought something they had on hand and a meal would be thrown together along with yard games and playground equipment for the kids. These made for great memories and the fuel for fantastic relationships!
Related: 5 Inexpensive Hospitality Ideas
3. Team Up
If your home is small or not conducive to hosting guests often (there are some valid reasons for this!), team up with someone. This is a perfect thing for friends at church to do together!
We have a family in our church who loves to host guests, their home is perfect for it, and they really do enjoy it! They are known for welcoming our newest church attendees over for dinner during the week. But they don't usually do it alone! They have 3 or 4 friends from the church who plan to come to the meal as well. Together they get to know our new comers, give several people who can't host in their own homes a chance to exercise hospitality, and fellowship with the church as a whole.
If you don't feel like your life situation or home is such that you can bring others into your it directly, team up with friends and other church members! You can volunteer to bring the meal so they only have to focus on cleaning up, or you can stay later and make sure everything is back in order for the next day. This spreads the burden out, makes it a lot more fun, and gives everyone a chance to participate.
4. Go out
Remember, a big theme around here is that our entire lives are meant to be lived in community! We are not supposed to only welcome others in our homes and be cold to everyone we meet on the streets. We have been welcomed by Christ and it is in the same manner we are to welcome others (Romans 15:7). This means that if your space or life situation is not conducive to welcome within your home, you can leave your walls and still practice hospitality.
Meet a friend at a coffee shop, take someone along with you when you go grocery shopping, have a playdate at the park, go for a walk with a neighbor. Get creative. Living a life of welcome doesn't only happen within your home.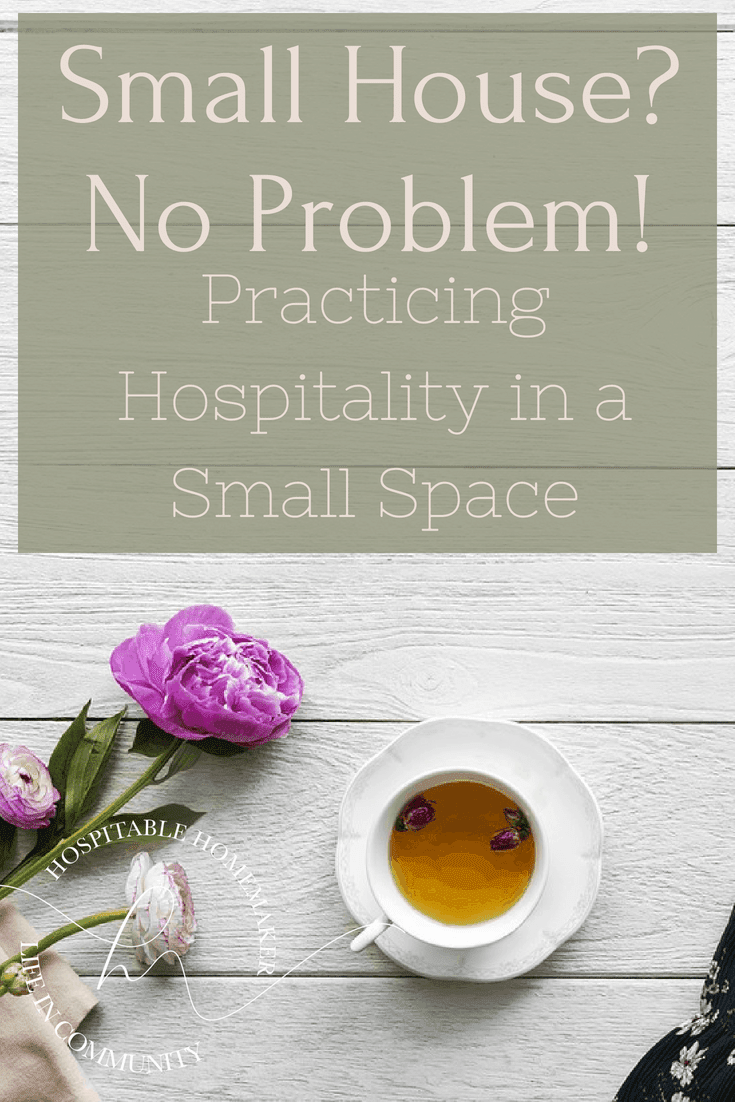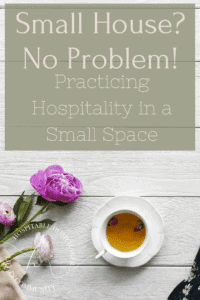 If your life situation is such that welcoming others into your home seems impossible, get creative. You have been called to welcome others (1 Peter 4:9). You have also been given unique creativity and gifting (read more about that here). Put the two together and, prayerfully, I believe you will be welcoming others in the beautiful way God has designed for you very soon.
If you are looking for some other great hospitality tips and tricks, check out this post for some of our favorite ideas!
I'd love to hear your ideas for getting creative in a small space! Let me know in the comments below!

Find this and other great blogs at these link ups: