Autism spectrum disorder could be misunderstood as something to stand in the way of community building but it doesn't have to be that way! Check out these ideas and insights to give you hope whether you have ASD or you love someone who does.
Autism Spectrum Disorder and Building Community in the Church
Introducing our Guest Writer:
I'm so excited to share this blog with you this week! My friend David is swinging by to talk about Autism Spectrum Disorder in the church and I know you are all in for a treat.
I met David 7 years ago at our small, inner-city church plant and he has been a huge part of our lives ever since. When we met I knew nothing about Autism Spectrum Disorder (ASD) and I interpreted our first interactions to mean he didn't like me (he'll tell you that story in this post).
But, since then, David has become very dear to me and my family. My children call him "Uncle David" and his support has been used by the Lord to get us through many difficult days.
David has Autism Spectrum Disorder and he is also a gift to the church and to me personally. I hope this post gives you you hope, encouragement, excitement, and renewed passion to understand and celebrate those with ASD in the church.
Related: Christian Hospitality for the Glory of God
I also teamed up with David to create not 1 but 2 free printables in our resource library! The first freebie gives 5 specific ways your church can come alongside those with ASD and the second freebie gives 5 specific ways that those with ASD can get started building community. You are going to love them! Get the password to the resource library below!
Now, without further discussion, here is David:
I want you to imagine this scenario:
You are in a crowded room with people who find themselves bumping into you or gently touch you with their hands to "sneak by" by without realizing that every touch descends your mind into panic mode.
On top of this, your brain begins to be overwhelmed by a plethora of different smells surrounding you which range from good to bad.
While you are still trying to adjust, music begins playing over the sea of noise.
You freeze as you fight to not let your anxiousness overcome you.
Could you really see yourself volunteering to being in such a predicament? Or for that matter would you believe it if I said enduring such a scenario is actually good for you?
Well, that was a depiction of what it is like for some people with Autism Spectrum Disorder for the first five minutes of a typical church service.
What is Autism Spectrum Disorder?
Autism Spectrum Disorder (which will be referred to as ASD going forward) is a neurological disorder commonly characterized by difficulties with social interaction, communication, and sensory sensitivity.
Typically, someone with ASD is unable to read body language or distinguish things like jokes or sarcasm. This person also probably exhibits a distinct lack of eye contact during conversation and struggles with handshakes. Thus, having to face social interaction can cause anxiety that only compounds the more people are in the area.
Another thing to keep in mind is that those with ASD typically have a topic that they find extremely interesting and they could think or talk about it for hours. Personally, mine is video games. However, it is not a cookie cutter disorder, meaning it doesn't manifest the same with all people on the spectrum. Just like if you went to a museum based on abstract art, while all the pieces are in the same classification, they are all distinct.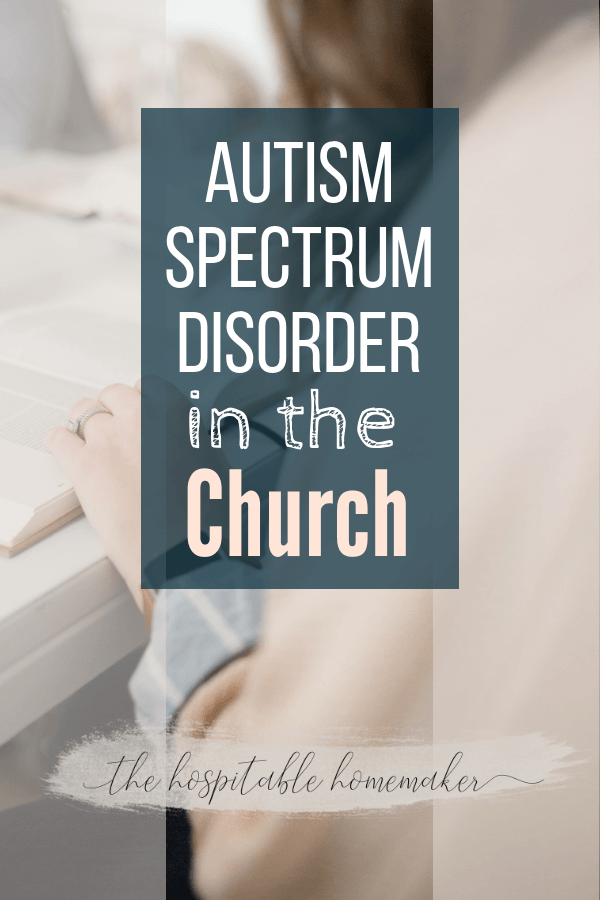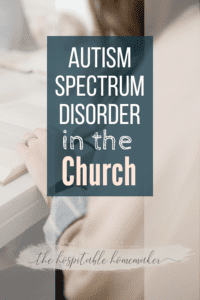 Why Church Matters for Everyone – Including Those with Autism Spectrum Disorder
My example in the beginning only focused on sensory sensitivity and the hardships caused by that, so you could imagine what it would be like when communication and socializing are thrown into the mix.
But, while a church service has many levels of difficulty for someone with ASD, the Bible states in Hebrews 10:24-25 "And let us consider how we may spur one another on toward love and good deeds, not giving up meeting together, as some are in the habit of doing, but encouraging one another".
As Christians we can't forsake the meeting of the saints, and we must have fellowship within the congregation as well since "iron sharpens iron, so one person sharpens another" (Proverbs 27:17). Trust me when I say that there are times where this is easier said than done but, as we must with so many things, we have to persevere. The church is needed for your spiritual growth and encouragement, likewise your fellowship within the church also serves to grow and encourage those around you.
Related: How to Overcome Church Hurt and Build a Thriving Community
How to Approach Church when You Have Autism Spectrum Disorder
It certainly can be tough for those of us with ASD to push ourselves through a church service but there are some practical steps you can take to help ease the burden or at least here is what I do (Please keep in mind that this is in no way the extent for suggestions and if you have any tips that you use please share them with us in the comments below.).
The night before I try to get good rest because going to church with a tired mind is sometimes and immediate "game over" and I shut down and become anxious a few minutes in. I have trouble falling asleep so I usually drink some sleepy time tea and some melatonin to help.

I tend to talk to people on a more individual basis because it is easier to focus on the conversation. With my focus on one conversation, it helps drown out some of the background which makes it easier to feel comfortable.

Most importantly though is that I pray throughout the whole service for strength to endure, that my mind will be at ease, and that I will be able to communicate with others. Just recently I was reminded of a very good verse to focus on "Do not be anxious about anything, but in everything by prayer and supplication with thanksgiving let your requests be made known to God. And the peace of God, which surpasses all understanding, will guard your hearts and minds in Christ Jesus" (Philippians 4:6-7).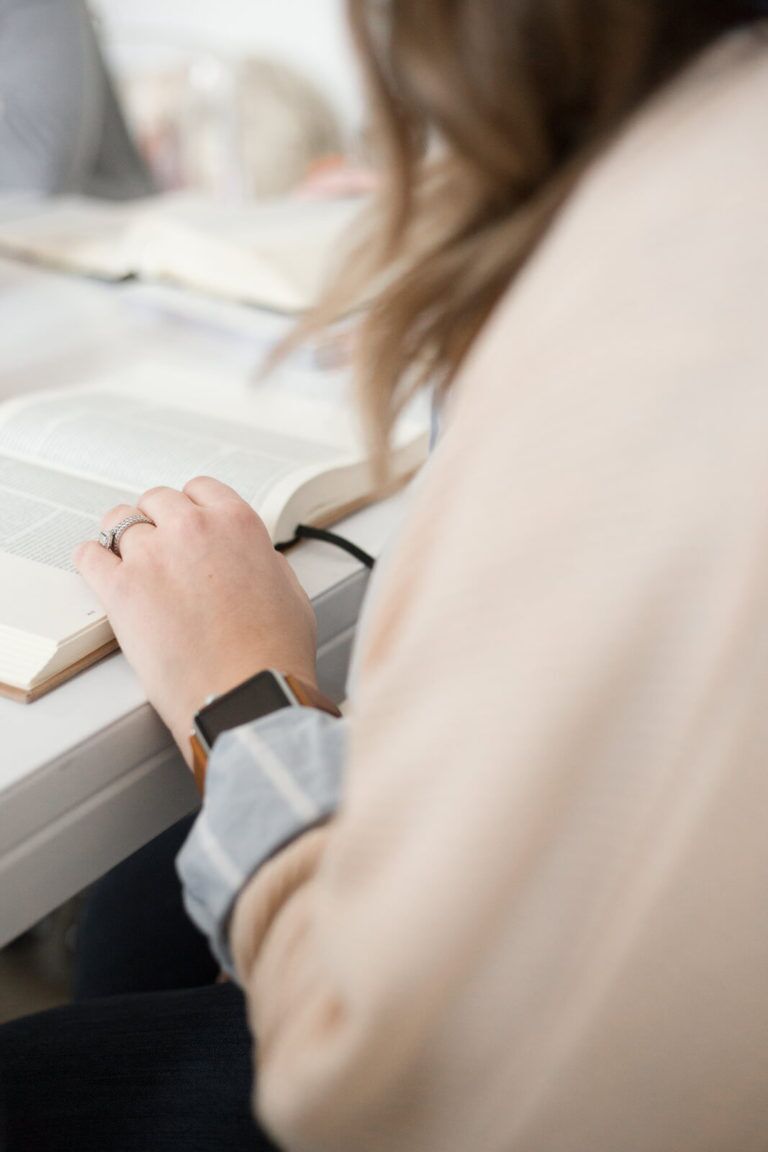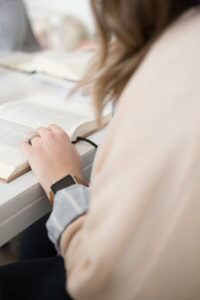 Grace in the Midst of Autism Spectrum Disorder
There are going to be services where it might be that you attended and just had to leave afterwards because its too much but there is no shame in this. At times like these, once my mind is settled I talk it out with those who I am close to. But with God's grace I find the strength to move forward and that is where our reliance needs to be anyway.
Connecting with Someone Who Has Autism Spectrum Disorder
For those who find it difficult to connect with members who have ASD, understand it may take patience and time.
When I first started interacting with Katie (aka Hospitable Homemaker) and her husband Bill at church their take away from the brief conversation was that I disliked them. They didn't do anything wrong, Katie would put a big smile on and say, "Hey Dave, how has your week been?" to which I would respond plain-faced, "It's David and it was alright.". Bill would later walk by and ask, "How was the drive to church today?" with my answer always being "it was ok".
To me I had answered their question so all was good but their takeaway was that I had disdain. However, they did not stop having these interactions. Over the course of months God did put it on my heart that I needed to grow in fellowship in the church. It took a lot of effort, but with Katie and Bill already extending the branch, it was easier to approach them and what followed is a lasting friendship.
Keep this in mind if you find your conversation feels like it is going nowhere and continue to approach this individual and lift them up in your prayers.
Also remember, "… there should be no division in the body, but that its parts should have equal concern for each other. If one part suffers, every part suffers with it; if one part is honored, every part rejoices with it. Now you are the body of Christ, and each one of you is a part of it." (1 Corinthians 12:25-27).
Related: 100 + Conversation Starters and How to Use Them
How Do We Deal with Hospitality?
What kind of hospitality blog would this be if I didn't also cover that subject? The idea of going to another person's house when you are not familiar with it can be daunting when you don't know what to expect, especially for those with ASD who usually thrive on routine and the familiar. Because of this, it is very tempting to turn down invitations to someone's house.
However, God doesn't want us to stop at just meeting as a congregation in the local body once a week, but also wants us to be a part of each other's daily lives. If we don't invest time to meet with one another, how will we be able accomplish what is said in Galatians? We are instructed to "Carry each other's burdens, and in this way, you will fulfill the law of Christ." (Galatians 6:2).
When approached by someone in the church that I am unfamiliar with, who wants me to come over to their house, my instinct is to come up with a reason why I can't.
Recently, I moved and started attending a new church and made a resolve that in order to learn more about my new church family – I would accept any invite that I was able to.
God used this openness and, through His grace, I am now renting a house with members of the church which was not what I had envisioned but is actually better because now we build each other up in Christ.
Related: Inspiration for Why You Should Bother with Hospitality
What Do I Say?
Additionally, to those with ASD, please be honest with the host that invites you over. If you find yourself struggling while you are there, it might be hard to say something at the moment. I have been struct by my fair share of sudden mutism and find myself unable to speak but, now I follow-up afterward and clarify a little.
You don't have to go into more detail than you want. This honesty will not only lead that person to be encouraged when they see you at church knowing what you are dealing with but also allows them to know how they can be praying for you.
Use wisdom though, while fellowship with other believers is necessary, don't push yourself to a breaking point. Be patient and do what you can and overtime God can build you up to handle more.
Hosting Someone with Autism Spectrum Disorder
If you are having someone over that you know has ASD, here are some suggestions on how you can lovingly serve them.
The first time they come over, just invite them and potentially someone you know is their friend in order to make them more at ease with the new environment you will be introducing them to. If you are inviting some additional people, make them aware so they know what to expect because having a vague sense of expectation goes a long way.

While I would certainly recommend this for anyone you invite over, ask them for any food preferences. Sensory issues can be tricky, certain smells and textures can be extremely uncomfortable for someone with ASD, so find out what they like.

Like I stated above, odds are the person probably has a subject that they are extremely passionate about, so if they are talking about it, do your best to encourage it for a time even if you aren't a fan. I have put Katie through hours of collective conversation about video games. She isn't a fan but she would listen then say something about how she doesn't really get it but she's glad I'm excited and we would move on.
Related: 12 Tips and Tricks for a Hospitable Home
Let this Encourage You
Several weeks ago, I was invited to a surprise party for a member of my church who was turning 30. I did not follow my own advice and got only about 5 hours of sleep the night before and had to work an 8 hour shift beforehand. So, when I arrived and was surrounded by twenty to thirty people in a smaller house, it didn't take long for my brain to start to overreact and my anxiety levels to sky rocket.
I found myself unable to enter any sort of conversation that was going on around me and it took everything in me to not run out of the house. Fortunately, one of the owners of the house, Rachel approached me and very calmly started a conversation. I found myself being able to push my attention to that and block out some of the craziness going on around me.
As my anxiety dwindled a bit, her husband Tom then invited me to join in on a card game in an area of the house less occupied which helped tremendously and I was able to make it through the night.
I wanted to end this post with that story to show that even if you are unaware, God can use you tremendously to help someone with ASD and you may not even realize it. Also, for those with ASD to take comfort in the fact the God knows your needs and cares for His children. Take hold to the truth of God's word and remember when facing challenges "…and my God will supply every need of yours according to his riches in glory in Christ Jesus." (Philippians 4:19).
If you are interested in learning more, make sure you get your hands on our 2 freebies available in our brand new resource library by subscribing to our newsletter below!